Yes you heard it, we have just released the raid items!
You can obtain them through the Loco Toro boss or through the Sponsor Raid store.





Loco Toro updates
The Loco Toro boss drop table has been tweaked and now the only rares it consists of are Raid items:
Click here for Loco Toros drop table
Due to the new items I also decided to temporarily reduce the respawn timer of Loco Toro from 20 minutes to 10 minutes.
This way the Raid items can be introduced a bit quicker to the economy.

New prayers
Along with the new raid items I have released the new prayers Runescape released.
Pressure: Your buffed stats last 20% longer.
Rigour: Increase your ranged attack by 20%, ranged defence by 25% and your ranged strength by 23%
Augury: Increase both your magic defence and attack by 25%.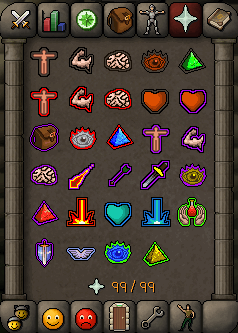 To use those Prayers you need to tear a Prayer scroll which you can obtain through Loco Toro or the Sponsor Raid store.

The Sponsor Raid store is located in the 'shop area' of Edgeville also known as the General store.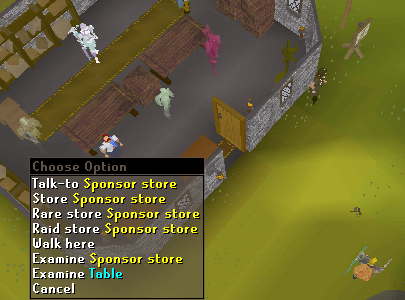 Dragon sword
The dragon sword has a special attack, where it will use 40% special attack energy to hit the target with 25% increased accuracy and damage.
If the target is using Protect from Melee, the special attack will ignore the prayer for one attack.

Twisted bow
The bow changes in strength and accuracy when used against targets with high magic levels and bonuses.
The biggest max hit captured was against Loco TOro which was a 78, against players it can hit up to 48s based on their magic level and bonus.

Ancestral robes
This is the only magic robes that will buff your magic max damage hit, upon wearing the full set your max damge will be buffed by 6%(2% each item).

Kodai wand
The Kodai wand is the strongest of the wands, it is able to autocast Ancient Magicks.
Your max magic hit will be boosted by 15%.

Miscellaneous updates:
To boost deep wilderness PKing you will now receive x2 PK drops above level 40 and x1.5 PK Drops above level 20.
3rd age bow fix, you can now use arrows up to rune with it.
Dragon scimitar (or) has been added to the Slayer store and Sponsor store.
Upon spawning sharks or karambwans through your Supply tab your inventory wouldn't update, this has been solved.
Dragon claws model updated, didn't update the anim to 2007's anim since the majority likes the one we have.
Tomorrow
Dragon thrownaxes release, probably putting this in the PK Store, ideas?
I want to thank my mate Max for the effort he put in whilst I was making this, he has helped me with countless stuff to push this out as fast as possible including the prayer scroll and more.